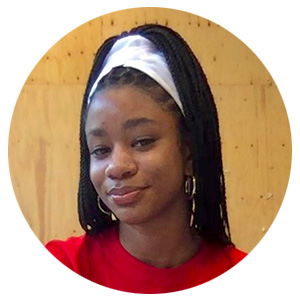 London-based designer and creative producer. 
She holds a BA in Graphic Communication Design from Central Saint Martins in London, graduating in 2020. Her practice is primarily focused on surfacing lesser-known narratives, dismantling 'single stories' and providing visibility and empowerment for underrepresented communities. 
 
She often reflects on the role of designers, artists and curators and the direct influence they all have in the construction of social attitudes. Her design process involves experimenting with and evaluating a wide range of mediums as she considers the best method of communication.  
 
Recent works include her award-winning 'Black British History Quilt', a five-meter-long typographic quilt previously exhibited at the Saatchi Gallery, which aims to challenge current histories surrounding the existence of Black people in Britain during the 18th and 19th centuries. Recent works also include the intricate embroidered design of author Emma Dabiri's latest book What White People Can Do Next for the publisher Penguin Books. 
 
In addition to designing work, she also takes on the role of the curator. She works to increase accessibility and audience engagement with archives and museums, as she is passionate about the sharing of knowledge and the documentation of history for posterity.